Office Space for Rent in Adelaide , Australia
Australia >
Adelaide
Showing 1 - 10 of 15 Results
1
This centre offers beautiful offices in a professional environment overlooking the lakefront. Each office is equipped fully furnished and ready for clients to work from. Each client has access to internet, printing, photocopying and boardroom facilities...
Read More
Enquire Now
2
Located in the suburb of Seaton these offices are easily accessible, offering great exposure to your business with over 25,000 vehicles driving past this location everyday. Your office wont be missed. All offices are furnished, 24/7 access, internet, printing, kitchen facilities, onsite meeting room all at not extra cost...
Read More
Enquire Now
3
This contemporary Adelaide serviced office centre provides a choice of well equipped executive suites with attractive views of the Victoria Park area. Spacious meeting rooms and conference facilities are available, and a comfortable lounge area can be used for less formal discussions. Secure on-site car parking...
Read More
Enquire Now
4
At this centre you only pay for the office space you need. No extra costs for shared or common areas. The flexible tenancy terms allow you to easily move into a larger or smaller office as your business needs change...
Read More
Enquire Now
5
This centre is located in the heart of the CBD in an iconic Adelaide office tower. The centre offers premium office accommodation with excellent natural light and outstanding views. It provides the ideal setting to showcase your business in a contemporary environment with quality features and attractive communal spaces, including a business lounge, meeting rooms and refurbished bathrooms...
Read More
Enquire Now
6
This Adelaide serviced office centre provides top-quality recently renovated office space in a sought-after CBD location. Our high-tech infrastructure is complemented by a friendly and efficient professional support team. Additional amenities include shower rooms and CCTV- monitored 24-hour access is available...
Read More
Enquire Now
7
This premium Adelaide business centre provides a fine selection of fully serviced office suites to rent, able to meet the needs of any ambitious company looking for a presence in central Adelaide. We offer friendly and efficient reception and admin support services to help create a zero-hassle environment, as well as a lounge area for more informal business collaboration....
Read More
Enquire Now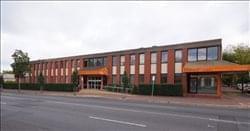 8
This business centre has recently undergone extensive renovation and offers a number of serviced office suites to accommodate between 1 and 15 persons. A friendly reception and admin team provide business support services. This two-storey building features storage facilities, and a well-equipped boardroom...
Read More
Enquire Now
9
This striking Adelaide business centre is awash with natural light and provides a range of recently refurbished, cost-effective serviced office suites for rent. Equally suitable for start-ups and growing firms, as well as interstate companies looking to have a strong presence in South Australia's primary business district. We offer efficient professional secretarial services and state-of-the-art IT systems to support a low-stress working environment...
Read More
Enquire Now
10
These new offices are situated in the heart of Prospect, just minutes from the CBD. There are private offices in a range of sizes to suit all businesses. This centre will give members access to on-site meeting rooms, an NBN internet connection with free printing and kitchen facilities...
Read More
Enquire Now