Office Space for Rent in Belo Horizonte, Brazil
Brazil >
Belo Horizonte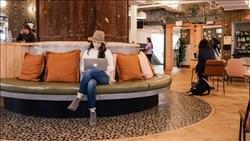 1
This building is buzzing with innovation. The neighborhood has world-renowned restaurants where you can entertain your clients after work. This building has the address that you deserve as there are many amenities...
Read More
Enquire Now
2
This centre offers a professional and functional environment, with an elegantly decorated reception and lobby, approximately 45 offices, conference rooms, along with a fully equipped auditorium. The final result is a professional, co-operative and highly efficient environment....
Read More
Enquire Now
3
With its blue LED-illuminated glass frontage, this work center offers a prominent, high profile commercial address in a fast-growing economic hub in southeast Brazil. The center occupies the eighth and ninth floor of the high-rise – one of the newest in the city of Belo Horizonte in Minas Gerais state. The building boasts a helipad, energy efficiency certificate and parking...
Read More
Enquire Now